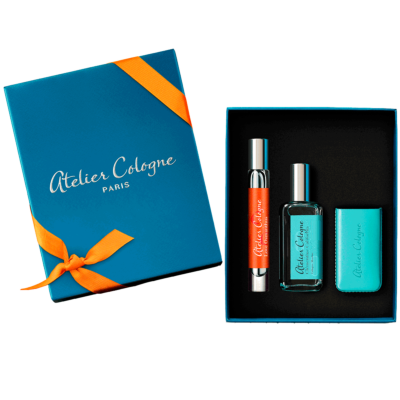 Special Price
$64.00
Regular Price
$80.00
Description
The Love Set includes:
10ml Love Osmanthus perfume
30ml Clémentine California perfume



Worth $110



Love Osmanthus perfume

Sourced in China, the Osmanthus flower blooms at night, adding a fruity essence to an exotic garden under the moonlight. Love Osmanthus captures the aura of this special flower in the same way a secret garden provides a haven to forbidden lovers. Easy to wear, Atelier Cologne Absolue fragrances are designed to offer outstanding, lasting power and character to Cologne lovers. They are suitable for both women and men.

Clémentine California perfume

With its sunny composition built around Clementine scents from Italy, Clémentine California created by Atelier Cologne is the ideal summer perfume but can also be a subtle reminder of warm days during winter. Sweet-smelling notes of juniper berries from Turkey and Vetiver from Haiti also make this unisex fragrance a must for those who want to be the center of olfactory attention. After all, there is nothing more sensual than a delicate summer scent in a room.

Their formulas are made on average with

93% renewable natural origin ingredients

of the highest quality.

* We consider an ingredient to be naturally derived if it is unchanged from its natural state or has undergone processing yet still retains greater than 50% of its molecular structure from its original plant or mineral source.
3 samples
Offered for any order except Discovery Set