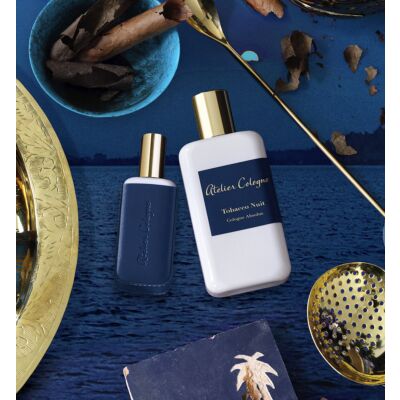 Cologne absolue
[ pure perfume ]
Cologne absolue
Inspired by the legendary Eau de Cologne, the Cologne Absolue is a new olfactive family created in 2009 by Sylvie Ganter and Christophe Cervasel, Atelier Cologne Creators and Founders. Genuine pure perfume exalting the magical freshness and elegance of citruses with exceptional lasting power thanks to very high concentrations of essential oils. For the first time, citruses are blended with the most precious natural raw materials for perfectly balanced creations and exceptional lasting power. Each Cologne Absolue tells the story of treasured emotions and powerful memories.
ALCOHOL DENAT, PARFUM (FRAGRANCE), AQUA (WATER), LIMONENE, LINALOOL, GERANIOL, BENZYL BENZOATE, CITRAL, FARNESOL.
Description
A unisex perfume. Made in France.
84% natural origin ingredients.
Tonight you feel like meeting some new people. Following your instincts, you push open the door to a popular jazz club. It is packed with passionate music lovers. The saxophonist is losing himself in the sweet beauty of his improvised melodies. You are living in the moment and enjoying it with all your senses.

Like Mimosa Indigo, the pure perfume Tobacco Nuit is the perfect choice for such a night. This natural fragrance created by Atelier Cologne is made of a tobacco flower accord, tangerine from Italy and labdanum from Bulgaria*. Enjoy these complex olfactory notes that blend into warm, unforgettable harmonies.