Vanille Insensée
Constellation Set
Holidays Set 30 Perfume + 35g Candle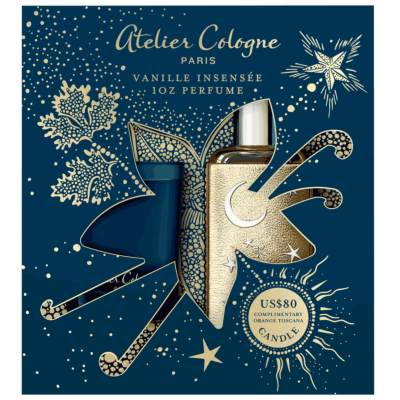 ABSOLUTELY TRANSPARENT
Perfumes of character crafted from nature, our Colognes Absolues are composed of up to 95% renewable and ingredients of natural origin. As we have nothing to hide, we are eager to share with you our more detailed formula.
The ingredients in our colognes are essentially water, alcohol, natural and human-made raw materials. Our creations contain no colorants, UV filters, preservatives and no synthetic stabilizers.
To achieve the signature balance of our Maison de Parfum, we add a selection of unexpected notes crafted scientifically. Our goal is to avoid nature over-exploitation and to get rid of ingredients of animal origin. It also enables our perfumers to reveal the unreachable, magnify nature with a touch of modernity, and enlarge the olfactory palette of our creations.
From the sourcing of our ingredients, the humans involved and the manufacturing of our fragrances, Atelier Cologne is absolutely committed to designing more sustainable, creative and authentic Colognes.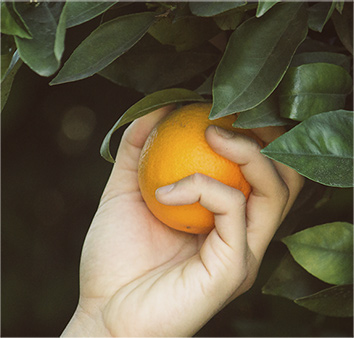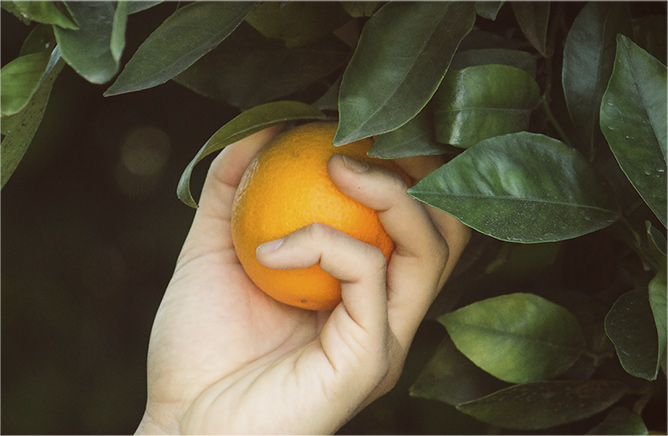 "We concentrate on the juice and never add unnecessary components such as colorants, filters, synthetic stabilizers."
Olfactive Families in Vanille insencée perfume
We constantly strive to improve and evolve our new fragrance creations and existing portfolios giving the priority to natural raw materials. All Atelier Cologne products sold in United States meet or exceed regulatory requirements
Discover the ingredients which can be found in nature
(Natural molecules can either be extracted from natural ingredients, or reproduced synthetically to preserve the wildlife.)
Ethyl vanillin :

A warm gourmande note naturally present in vanilla

Naturally found
Vanillin :

Powdery edible note having a characteristic of vanilla bourbon beans

Naturally found
Methyl dihydrojasmonate :

Floral delicate and petally note with jasmin inflexion, naturally present in Osmanthus

Naturally found
Linalool :

Floral note present in many aromatics plants such as lavender & basil

Naturally found
Geraniol :

Rose note naturally present in rose flower and geranium

Naturally found
Nerolidol :

Delicate floral note with rose and green nuances present in orange flower

Naturally found
Ethyllinalool :

Fresh floral note with aromatic and freesia inflexion such as coriander

2,4-Dimethyl-4,4a,5,9b-tetrahydroindeno[1,2-d]-1,3-dioxin :

Floral Magnolia note
Ethyl alcohol :

Strong alcoholic note found in ripe fruits

Naturally found
Benzyl alcohol :

Slight floral rosy note with almond inflexion naturally present in jasmin

Naturally found
Benzyl benzoate :

A balsamic floral note with fruity sweet nuances present in various white florals like Ylang, jasmine, tuberose

Naturally found
Ethylene brassylate :

Musky note with powdery floral, woody and vanilla inflexion

3-Methyl-1-cyclopentadecanone :

Smooth musky ingredient with a almost powdery violet undertone

Naturally found
Oxacycloheptadec-10-ene-2-one :

Musky note found naturally in ambrette seeds

Naturally found
Methyl atrarate :

Mineral earthy note naturally present in oak moss

Naturally found
Limonene :

Citrus note found in many essential oils as orange, lemon and bergamote

Naturally found
Naphtho[2,1-b]furan, dodecahydro-3a,6,6,9a-tetramethyl- :

Warm ambery note with a musky, powdery, salty and woody cedar character present in clary sage

Naturally found
Description
Vanille Insensée Constellation Set in limited edition for this Holidays 2021. Like ancient travelers and adventurers, follow the path of stars to find your own story to tell… The Ukrainian artist Daria Hlazatova will be our guide through the stars to rediscover the celestial vault and its infinite wonders.
This set contains: Vanille Insensée perfume 30 ml, Golden Hour Limited Edition Leather Case and Orange Toscana Candle 35g.
The Collection