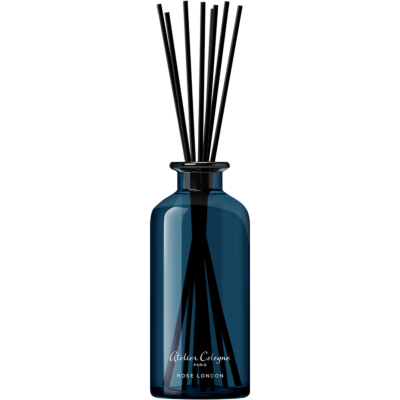 Rose Absolue, Ginger, Guaiac Wood
Rose Absolue, Ginger, Guaiac Wood
Description
Home Stick Diffuser Rose London
Depending on whether its fragrance is used for a perfume or a diffuser, a rose can express different emotions. However, one thing is sure: This sweet scent will always speak to your heart. Being the national flower of England, the rose is representative of the country's self-image and history. Its vibrant heart, the city of London, is of emblematic significance for Atelier Cologne since the first British Atelier opened its doors in the flower market of Covent Garden.

Rose London, a floral woody, the most sensual perfume of the collection.Composed around the celebrated English rose, it explores its more passionate and luminous facets.

Atelier Cologne diffuser is made of ingredients of natural origin, with less CO2 rejection, nitrogen, phoshorus emission and oxidizing compounds.
Each diffuser is concentrated at 10% which ensure quicker diffusion. The duration of perfume diffusion is more than 4 months.