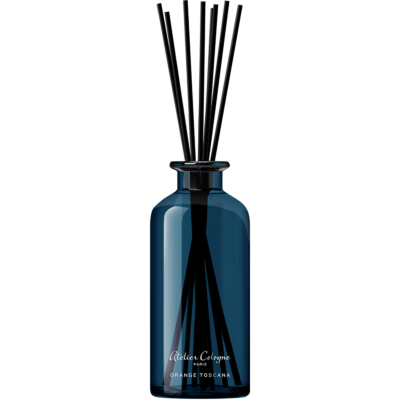 Orange, Bitter Orange, Elemi
Orange, Bitter Orange, Elemi
Description
Orange-scented Home Stick Diffuser Orange Toscana
The luxury scented diffusers created by Atelier Cologne make your imagination travel around the world and pay tribute to wonderful memories. Let's take the orange-scented diffuser Orange Toscana, for instance, which will invite you to an unforgettable olfactory journey.

The orange-scented diffuser Orange Toscana, a fruity citrus. It is inspired from our best selling Cologne Absolue, Orange Sanguine. Solar and zesty as an orange juice on holidays in Italy, its perfume recreates the feeling of a sunny vacation.
Atelier Cologne diffuser is made of ingredients of natural origin, with less CO2 rejection, nitrogen, phoshorus emission and oxidizing compounds.
Each diffuser is concentrated at 10% which ensure quicker diffusion. The duration of perfume diffusion is more than 4 months.