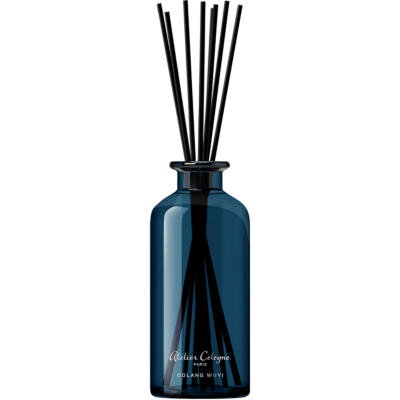 Oolang tea, Neroli, Guaiac
Oolang tea, Neroli, Guaiac
Description
Home Stick Diffuser Oolang Wuyi
Located in the south of China, the Wuyi region in China is a wild and splendid montainous location. According to the legends of the place, the Oolang tea was first born at the top of the mountains. Oolang Wuyi recreates the atmosphere of a cooconing home interior with musky and smoky notes, a perfect scent for a rainy afternoon.

Oolang Wuyi,, a woody musky. Smoky and earthy, the perfume slowly diffuses a cocooning atmosphere with vegetal notes.

Atelier Cologne diffuser is made of ingredients of natural origin, with less CO2 rejection, nitrogen, phoshorus emission and oxidizing compounds.
Each diffuser is concentrated at 10% which ensure quicker diffusion. The duration of perfume diffusion is more than 4 months.