Clémentine California
Limited Edition Mixed Set
An invitation to California on a windless summer day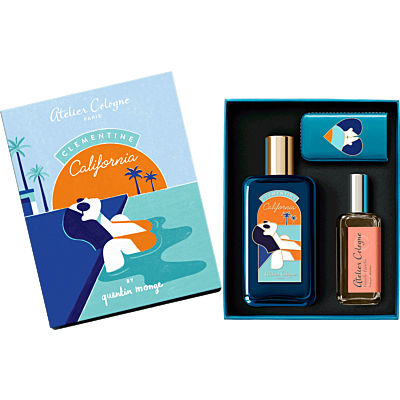 Description
A unisex perfume. Made in France.
92% natural origin ingredients.

The Limited Edition Set contains:
- Clémentine California 100 ml
- Pomélo Paradis 30 ml
- A leather case

Atelier Cologne reinterprets for the first time its worldwide bestseller, Clémentine California, in partnership with Quentin Monge.
With its sunny composition built around clementines from Italy, Clémentine California is a sensual and delicate summer scent. Sweet-smelling notes of juniper berries from Turkey and Vetiver from Haiti also makes this unisex fragrance a must for anyone who wants to be the center of olfactory attention as the temperature rises.
Clémentine California evokes sunshine, blue sky, and endless miles of sparkling beachfront, unbottled.
Additionally, this Limited Edition Set includes a Pomélo Paradis 30ml that will remind you of delicious, exotic fruits ripening in the warm sun. Its fruity, fresh scent will open you the doors to an olfactory paradise of overwhelming emotions.
Quentin Monge's artistic interpretation is an invitation travel to California on a windless summer day. His illustration pays tribute to the story that initially inspired the perfume: A Hollywood film producer longing for the perfect actress and who on a warm summer day crosses paths with a natural beauty, his new muse.

3 samples
Offered for any order except Discovery Set